Our Mission Statement
​
NUMA Speed will provide speed and strength training with the highest levels of customer satisfaction. NUMA Speed will provide revolutionary speed training exercises developed by former World Record holder Tim Montgomery that condition your specific MUSCLE FIBERS to generate speed and quickness, regardless of age, fitness level, or current speed and most important without enhancement drugs.
NUMA Speed teaches their students that speed and quickness are not the same as strength and endurance. This training guarantees athletes muscle development for speed by applying proper exercises for the right outcome.
NUMA Speed ensures that clients will learn the correct way to conditions the right muscles including fast twitch muscles fibers that are critical to explosive starts, improved running speed, quickness, and agility. Regardless of how fast the student begins, he/she is guaranteed to increase their speed beyond their expectations.
New NUMA Speed Elite Facility
Located off Tower Road.
1469 SW 74th Dr, Gainesville, FL 32607
NUMA Speed Elite is Founded by
Tim Montgomery – Olympic Gold Medalist and Motivator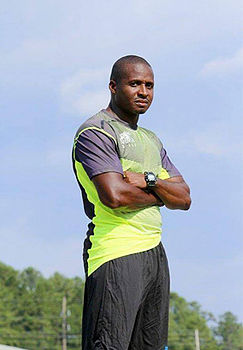 Tim Montgomery knows exactly what it takes to be the fastest man in the world. He also knows the price one pays when achieving such goals illegally. A former Olympian and world record holder in the 100-meter sprint, Montgomery was stripped of his 2002 records after being found guilty of using performance-enhancing drugs. Following this devastation, Montgomery retired from running. He again found himself on the wrong side of the law when he was tried and convicted for his part in a check fraud scheme and for dealing heroin. Upon his release from a four-year and six-month prison term, Montgomery decided to turn his life experiences into lessons that would inspire and motivate others. As the founder of NUMA Speed (Never Underestimate My Ability), Montgomery focuses on helping athletes build self-confidence and avoid social and professional pitfalls in the face of substance abuse and peer pressure.